Songs of the Revolution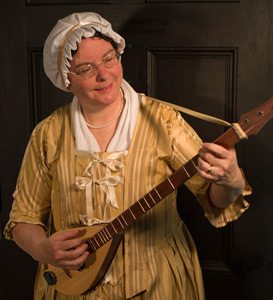 In 1776, New England was full of music. Songs with a driving beat helped speed the work in kitchens and workshops. Soldiers marched to lively fife-and-drum tunes, youths sang melodies of romantic passion, mothers crooned lullabyes, and churches rang with hymns.
Music was an important weapon in the battle for hearts and minds, as both sides created songs to encourage either rebellion or loyalty to the crown. Ballads carried the news of the day, especially important to those who could not read. And when the sun went down, there was nothing better than a 40-verse ballad full of bloody plot twists to while away the evening.
Diane Taraz presents songs that were enjoyed by both sides during the American Revolution, exploring the fascinating world behind the lyrics. In colonial dress, she sings and accompanies herself on mountain dulcimer and an instrument similar to the English guitar, which was played by women in Colonial times. Her crystal-clear voice is the perfect vehicle for songs that were usually sung without instruments.
For more information, please contact us.

The songs include:
- The Castle Island Song, penned by grumpy British soldiers exiled from Boston after the Massacre, in which they threaten to return and "make you poor pumpkins to sweat!"
- Yankee Doodle, originally written to poke fun at New England soldiers, but later adopted as their favorite marching tune. It acquired dozens of verses for all occasions, including some celebrating the ratification of the U.S. Constitution by Massachusetts.
- Young Ladies in Town, created in 1769 to encourage fashionable women to boycott British goods, going so far as to ask them to refuse marriage proposals from men who persisted in wearing London fabrics.
- Come Here, Fellow Servant, a 1759 song from a London play whose popularity in the colonies shows how bold ideas about equality took root. The last verse foretells the love of freedom and mobility that became part of the American character.
- Soldier, Will You Marry Me?, a funny song, but one based on the harsh reality of the poverty of the average soldier. American troops froze and starved for lack of uniforms and food, most famously at Valley Forge.
- Johnny Has Gone for a Soldier, a heartbreaking lament with Irish roots, like many in the Colonies.
- A Revolutionary Tea, an allegory written after the Boston Tea Party about an island queen (Britain) and her saucy daughter (America).
- Free America, written in 1770 by the beloved patriot Dr. Joseph Warren, who was slain at the Battle of Bunker Hill.
---
"Thank you so much for one of the best programs we have ever had. Your narration about the songs was priceless, and your lovely voice a treat."
-- Joyce Hawkins, Sheffield Historical Society
---
"I knew ... we would have an enjoyable evening of music. I did not realize that we would be treated to an absolutely wonderful history lesson, delivered with a teaspoon of sugar that made it go down with ease. It was an incredible evening. We all appreciated your taking us back in time."
-- Terry Barry, Friends of the Robbins Library, Arlington MA
---
"Her voice is truly exquisite, and her rapport with the audience warm and engaging."
-- Mike Harde, Westford Historical Society
---
Diane is director of the Lexington Historical Society Colonial Singers. She has performed at many libraries, museums, and historical organizations throughout Massachusetts and beyond.