"a deep-flowing river of a voice" (Sing Out! magazine)
For years, Diane Taraz has been writing her own original songs and breathing new life into traditional ones. She brings a dry wit and a light touch to explain the intricacies of her music. Audiences listen entranced as she sings a cappella, a challenging style at which she excels. Dirty Linen magazine calls her a "fine, inventive guitarist" and she plays lap dulcimer with equal passion.
On her CDs and in concert, Diane delves into fascinating corners of music. She draws inspiration from Celtic, British, French-Canadian, and American folk, plus blues and jazz. Performing live, she presents historic programs that focus on the American Revolution, the Civil War, and other eras.
Born in the Berkshire hills of western Massachusetts, Diane has long made her home in the Boston area. She directs the Lexington Historical Society's Colonial Singers (click on the name to visit) and sings with Vox Lucens, a 12-member a cappella Renaissance choir (click on the name for more), and the UUlations, a women's a cappella group.
Another recording!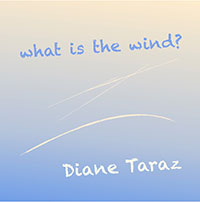 "What Is the Wind? is out! Click here to sample and order it on CD Baby. It has newer songs and some I wrote 30 or more years ago. Backup musicians include the fabulous Billy Novick on whistle, the equally fabulous Peter Tillotson on bass, the beyond fabulous Bronwyn Keith-Hynes on fiddle, and the lovely and talented Stingy Lapel on hand drum.
"Spend an evening in the 1700s with the CD I produced for the Lexington Historical Society Colonial Singers. We recorded Now Kiss the Cup! in Buckman Tavern, built in 1710, the place where the Lexington Militia gathered the night before their fateful meeting with the Redcoats on the Green. By a crackling fire, amidst chatter and tankards clinking, enjoy songs that echoed off the old Taproom walls as colonial folks gathered to enjoy the hospitality of Mr. and Mrs. Buckman. The CD is on sale at the Buckman Tavern Gift Shop; you can order on-line at www.lexingtonhistory.org."
~ Diane
For more information, please contact us.