"a deep-flowing river of a voice" (Sing Out! magazine)
For years, Diane Taraz has been writing her own original songs and breathing new life into traditional ones. She brings a dry wit and a light touch to explain the intricacies of her music. Audiences listen entranced as she sings a cappella, a challenging style at which she excels. Dirty Linen magazine calls her a "fine, inventive guitarist" and she plays lap dulcimer with equal passion.
On her CDs and in concert, Diane delves into fascinating corners of music. She draws inspiration from Celtic, British, French-Canadian, American folklore and jazz. Performing live, she presents historic programs that focus on the American Revolution, the Civil War, and other specific eras.
Born in the Berkshire hills of western Massachusetts, Diane has long made her home in the Boston area. She directs the Lexington Historical Society Colonial Singers and often appears as a guest with the Gloucester Hornpipe & Clog Society. She also sings with Vox Lucens, a 12-member a cappella Renaissance choir, and the UUlations, a women's a cappella group.
Upcoming release concerts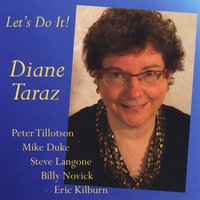 After many years of dreaming about recording my favorite jazz standards, "Let's Do It!" is a reality! The full notes are under [Albums] on the menu. While there, click on the [View] button. That will whisk you to the CD Baby website, where you can listen to sound clips and purchase as you wish.
Some great reviews are rolling in! Check 'em out under [Albums] -- just click on the CD title, then [Reviews].
Come celebrate at the release concerts! The first is Friday, October 17, at the Second Friday Coffeehouse in Belmont MA. (Yes... that's the third Friday at the Second Friday.) It's a great performance space, with a free parking lot (!). Joining in will be all but one of the players on the CD (Steve Langone can't make it, but we've got another fabulous drummer named Steve). Mike Duke is on guitar, Peter Tillotson on bass, Steve Rose on drums, Billy Novick on clarinet, and Eric Kilburn on mandolin.
The second concert will be Sunday, November 23, at 2:30 pm, at Club Passim in Cambridge MA. It's a great place to hear music, with a tasty menu of fresh food and beverages to make the band sound even better! We will welcome Steve Langone, the CD drummer, to tap the skins for this one.
To hear samples, click here. For more information, please contact us.